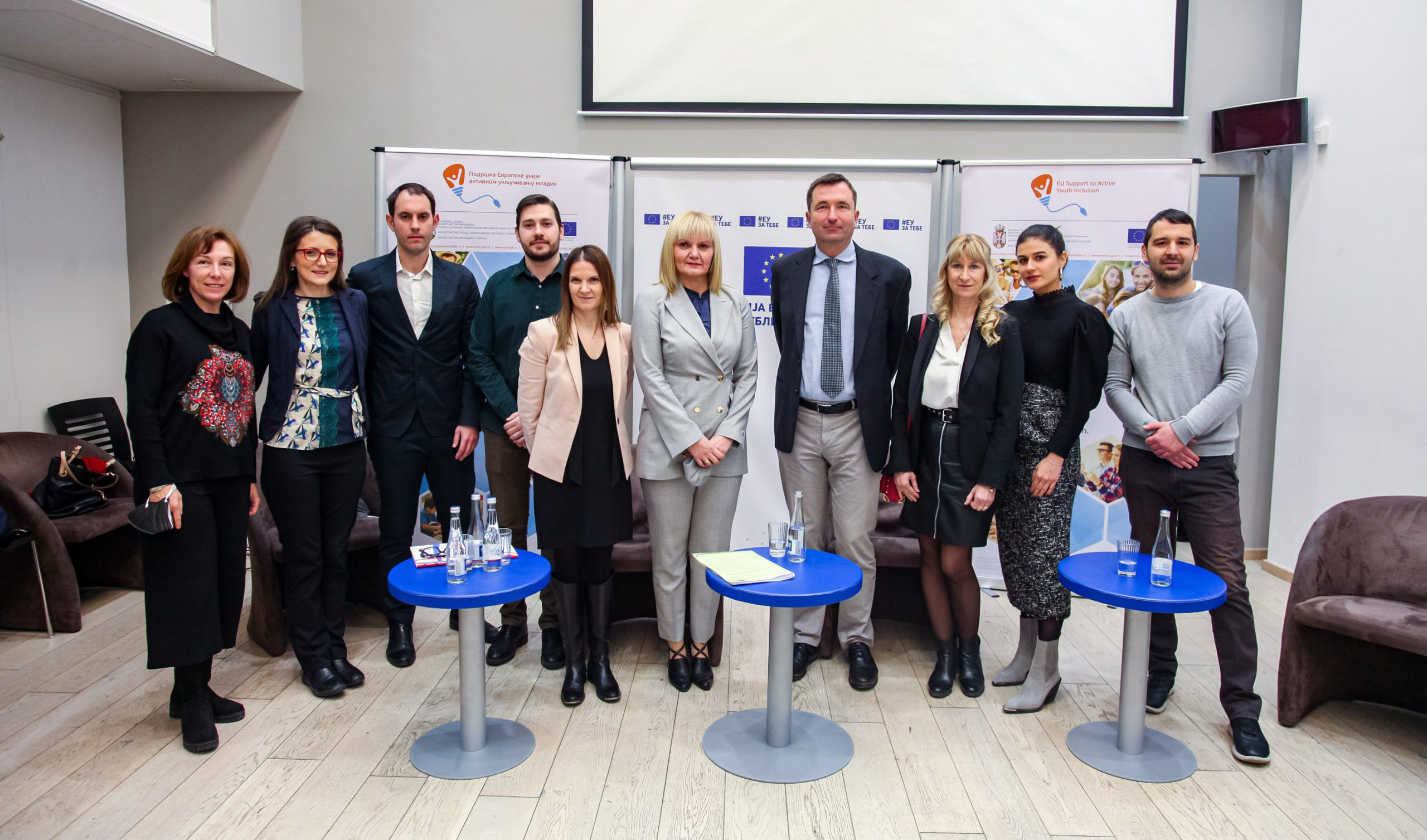 Youth activism plays very important role in Serbian society. Continuous cooperation of central and local government together with NGO`s and local initiatives is of outmost importance for successful inclusion of Youth and vulnerable groups. These are the conclusions of the "EU Support to Active Youth Inclusion" project final event, held on 21st of December 2021, at the EU info centre in Belgrade and online.
"EU Support to Active Youth Inclusion" grant scheme was successfully implemented by Eptisa Southeast Europe with offices in Serbia and EPTISA Servicios de Ingenieria S.L. from Spain (Technical assistance), in cooperation with the Ministry of Finance – Sector for Contracting and Financing of EU Funded Programmes, Ministry of Labour, Employment, Veteran and Social Affairs and the Ministry of Youth and Sports.
4.7 million euros worth EU project was implemented in more than 35 towns and municipalities in Serbia. From the beginning of 2019, the project has increased social inclusion of young people, boosting employment, youth activities, work experience and entrepreneurial practice among young and vulnerable groups.
Special attention was paid to harder-to-employ young people, such as those without qualifications or those who are underqualified, young people without employment and those belonging in particularly vulnerable social groups (young people with disabilities, Roma, rural youth, etc.), young people who have not been educated or who have not undergone any training, young people who are beneficiaries of social assistance or long-term unemployed. In total, 24 projects were implemented by republican and provincial social protection institutions, towns and municipalities, citizens' associations, foundations and educational institutions.
Commenting on the results of the project, Martin Klaucke, Head of Operations II at the EU Delegation to Serbia, said: "We are very pleased to see that EU support has been used to mobilise several important end-user groups, including young people who are not employed, in education or training (so-called NEET youth), people with disabilities, young people leaving the social protection system, former juvenile offenders as well as other vulnerable groups.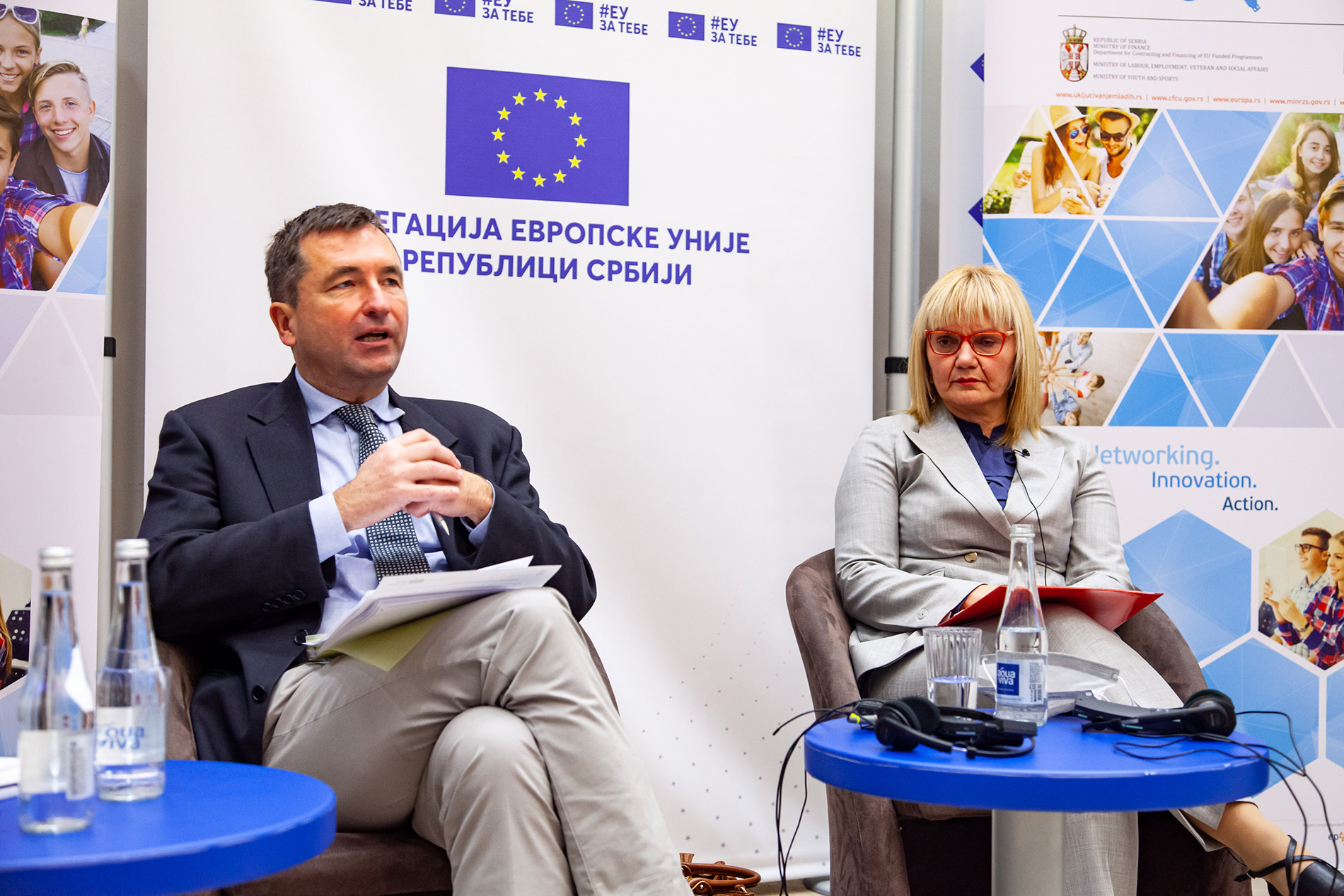 The grant scheme confirmed once again that civil society organizations are vital to reaching vulnerable groups who are furthest from the labour market. Based on their experience and recognition in local communities, they can make additional efforts to reach specific target groups and therefore complement overburdened institutions on the ground. Through this grant scheme, many innovative practices and services for the benefit of young people have been developed and implemented, ones that should be upgraded and invested in further. It is therefore essential to continue building the capacity of all relevant local actors, including civil society, who can make a difference in the lives of many beneficiaries in selected communities", Klaucke concluded.
Irma Lutovac, Project Team Leader, commented on the work of the team regarding institutional capacity building: "As you know, the task of the Technical Assistance Team was to support institutions to manage grant projects and strengthen their capacities for the implementation of projects in accordance with the rules of the European Union. The capacity of institutions has been strengthened through daily assistance in activities related to monitoring the grant scheme and through training. I believe that the capacity is definitely better than it was", and underlined the project highlights:
"Through a number of projects, amazing innovations have emerged with regard to empowerment and inclusion of young people and other vulnerable groups, which as a rule face many obstacles, especially when it comes to labour integration and employment.
Over 3.600 people have been involved in project activities, and a large number of them now has better chances in the labour market; also, 111 people have found permanent or temporary jobs. We have seen great examples of cooperation between institutions and civil society organisations, examples of well-planned and implemented support to end users, whether it is activation, motivation, mentoring, or involvement in quality training, all aimed at increasing employability", said Lutovac.
Jasmina Pekmezović, acting Assistant Minister of Labour, Employment, Veteran and Social Affairs, said: "I am very honoured and pleased to thank the distinguished representatives of the Delegation of the European Union to the Republic of Serbia, who have supported our efforts to increase the employability of young people and members of other vulnerable groups through the development of innovative and tailored services as well as active inclusion models. What is also important, and piloted through implemented projects, is assistance to vulnerable groups through partnership and coordinated action of institutions and organizations at the local level, which is the only right way to implement effective, systemic assistance."
Uroš Pribićević, acting Assistant Minister of Youth and Sports also stressed the importance of this project for the Ministry and said: "The Republic of Serbia has been working systematically for years to develop, improve and implement programmes to enhance the quality of life of young people. The highest priority of the Government and the Ministry in working with young people is to create conditions for improved employability and self-employment of young people."
Trough daily on job training and mentoring session, project succeeded in raising the capacity of the grantees concerning the procurement, financial management and EU visibility.
Together with the grantees and the ministries, project successfully developed 158 original promotional tools, including 19 video clips, 21 brochures and manuals, 23 posters, 3 interactive online tools/web portals, etc. Numerous important media events have been implemented including "NEET national dialogue" with EU Ambassador Fabrizi, Opening of the Youth centre in Raška with Prime Minister Brnabić, "Kumpania" Belgrade Youth Festivity for smart waste management, etc.
Among other project highlights, The Courtyard of sustainable development of "Caritas Šabac" stands out as the winner of the international competition of social enterprises, held within the EU Interreg regional project "Finance4socialchange", in which 11 social enterprises from Bulgaria, Moldova and Serbia participated. At the beginning of COVID 19 pandemic, Members of the Kuršumlija Association of Persons with Disabilities caught the public attention by sewing much needed protective cotton masks and distributing them free of charge to anyone in need.
The Courtyard of sustainable development:

On job training for foster families Youth: