The project is funded by the EU Instrument for Pre-Accession Assistance (IPA) and aims at increasing the contribution of the third sector in the policy-making process and at supporting the Government in establishing institutional mechanisms for cooperation with the civil society.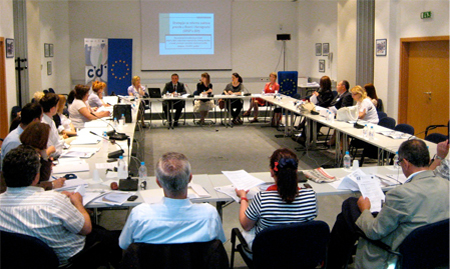 EPTISA, in association with Kronauer Consulting, has recently been awarded the EU-funded project "Capacity Building of Government Institutions to Engage in Policy Dialogue with the Civil Society in Bosnia and Herzegovina". This assignment will enable the different Governments of Bosnia and Herzegovina (BiH) at a national and entity levels to better understand the citizens' needs and to increase the engagement of the civil society in the different reform processes related to the eventual accession the country to the EU.
The civil society is widely considered to be the backbone of the accession process in the Southeast European countries. In BiH this relationship between the Government and the Civil Society Organisations (CSOs) is still characterised by a very fragmented cooperation, despite the fact that the participation of the civil society in the on-going reform processes has improved in the recent years. Challenges in this field still need to be addressed in order to promote this partnership as an important factor that will contribute to the EU integration process. In this regard, this project will aim at increasing the contribution of the CSOs in policy-making and at encouraging the development of their advocacy and monitoring capacities. It will also encourage the Government in establishing institutional mechanisms for cooperation with the civil society.
Over the next 24 months, a multidisciplinary group of experts from EPTISA and Kronauer Consulting will undertake a wide variety of activities aiming to create a more positive environment for cooperation between the Government and the CSOs, such as: developing policies related to the institutional cooperation with CSOs; drafting legislation to improve the strategic, financial and institutional frameworks affecting the development of the civil society; enhancing public policy monitoring, analysis and evaluation tools; developing information dissemination mechanisms from the Government towards the CSOs; conducting public awareness campaigns on the existing institutional mechanisms for government cooperation with CSOs, etc.
The Socio-Economic Development and Public Administration Reform Department of EPTISA SEE is nowadays implementing very important projects in the fields of Antidiscrimination, Support to Refugees and Vulnerable Population, Institutional Strengthening, Management of Grant Schemes, etc.
For more information about this project, please contact EPTISA Regional Office for Southeast Europe at eptisasee@eptisa.com.