The recently awarded contract, financed by the IBRD/IDA, aims at providing capacity building activities in the field of energy to the staff of the Ministry of Environment and Spatial Planning (MESP), the Environmental Protection Agency (KEPA), and the environmental inspectorates in Kosovo. It will also offer technical assistance in the review process for Environmental Impact Assessments (EIAs), in the approval of permits, and in the monitoring requirements for power plants and mines.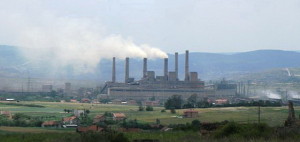 Kosovo is strongly committed to strengthen its co-operation with the EU in combating the deterioration of the environment and in preventing pollution from open cast mines and coal-fired power plants. In relation to this and since 2011, Kosovo has pursued its approximation to the EU environmental standards with important advances in the development of legislation on Environmental Protection. Despite the progress achieved in its legal framework, pollution in Kosovo is still high above the average EU standards in most of the sectors. In those areas where an approximation has been achieved, attention still needs to focus on its implementation, monitoring and enforcement.
Thanks to this new contract, during the next months a team of local and international experts managed by EPTISA will focus on supporting the MESP and KEPA to strengthen the EIA and permit application processes in the energy sector, as well as to enhance the inspection system to monitor the compliance with the permit conditions of coal-fired power plants and open cast mines. Additionally, a Study Tour to Italy will be organised to analyse the Italian model of EIAs, the inspection and monitoring frameworks, and to share good practices related to the implementation and enforcement mechanisms, procedures, management systems, and software and equipment, all linked to the EIA and inspection activities.
EPTISA is uninterruptedly working in Kosovo since 2003, where the company has a track record of 14 IFIs projects in its portfolio, covering a wide variety of technical sectors.
For more information about this project please contact EPTISA Regional Office for Southeast Europe at eptisasee@eptisa.com.
* EPTISA takes a neutral position vis a vis the political issues within the region of the Western Balkans, fully supporting the policy of the EU in this regard. The designation for Kosovo is without prejudice to the positions on status.