The EU-funded project "EU for Natura 2000 in Serbia", implemented by a consortium led by Eptisa Southeast Europe d.o.o., organised on the 9th and 10th of November a seminar "Requirements for the Designation and Future Management of Natura 2000 Network in Serbia".
After more than 2.5 years of implementation, the "EU for Natura 2000 in Serbia" project is ending on the 30th of November 2021. The project has provided the Ministry of Environmental Protection, the Institutes of Nature Conservation and other stakeholders with support in establishment of Natura 2000 network in Serbia. Its extensive activities included field work, data analyses and identification of potential Natura 2000 sites, development of IT tools and procedures for data management, analysis and improvements of the legal framework, capacity building and preparation of management plans, as well as various activities aiming to raise public awareness and knowledge about Natura 2000 and biodiversity protection.

As the main result of work performed by a team of more than 30 international and national experts, in close cooperation with the leading national governmental and academic institutions, the project identified 277 potential Sites of Community Interest (pSCIs) and 85 Special Protection Areas (SPAs).
To ensure long-terms sustainability of the project results, the 2-day seminar was held to present and discuss the current status of biodiversity protection in Serbia, financing possibilities and future investment plans, recommended legal reforms, and to prepare a post-project workplan as a roadmap for the beneficiary institutions to continue working on the Natura 2000 network establishment.
The event included all the key actors in this process – the Ministry of Environmental Protection, Ministry of Agriculture, Forestry and Water Management, Ministry of Construction, Transport and Infrastructure, Provincial Secretariat for Urbanism and Environmental Protection, Institute for Nature Conservation of Serbia, Institute for Nature Conservation of Vojvodina Province, Serbian Environmental Protection Agency, the EU Delegation to the Republic of Serbia, as well as representatives of international organisations and other development support projects.
International presenters from the EC Directorate General for the Environment, Ministry of Environment and Water of Bulgaria, and Bulgarian Society for the Protection of Birds shared their recommendations and best practices for Natura 2000 establishment.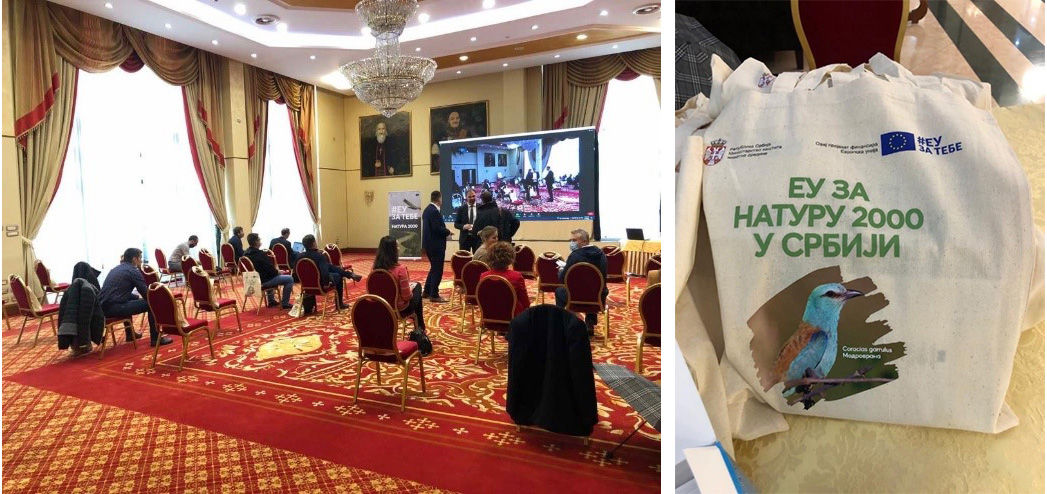 The "EU for Natura 2000 in Serbia" project has been recognised as a major step towards Natura 2000 establishment in the Republic of Serbia and its preparation for EU accession in area of nature protection.