Donor: EU-IPA
Budget: 1,410,000 EUR
Project Description: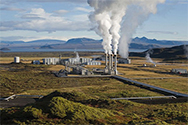 The overall objective of the project is to contribute to sustainable development in Serbia by enhancing capacities in the energy sector to use renewable energy sources and efficient usage of resources according to EU standards.
The project aims to build the capacity in the energy sector which will lead to the implementation of the rational use of energy and increased use of renewable energy sources and CHP production.
The Consultant will propose the best options for use of geothermal resources in Serbia and will develop feed-in tariffs for hybrid biomass/geothermal facilities. Moreover the Consultant should take account of the need to achieve a sustainable knowledge transfer to the beneficiary through all phases of project implementation hence workshops and "on-the-job" training will be implemented.
The project comprises the following components:
Part A: Study of Geothermal Potential in Serbia
Part B: Promotion of CHP generation and energy efficiency
For more information about this project, please contact EPTISA's Project Director, Ms. Maja Spasojevic at: mspasojevic@eptisa.com