Donor: EU
Budget: 2,198,900 EUR
Project Description: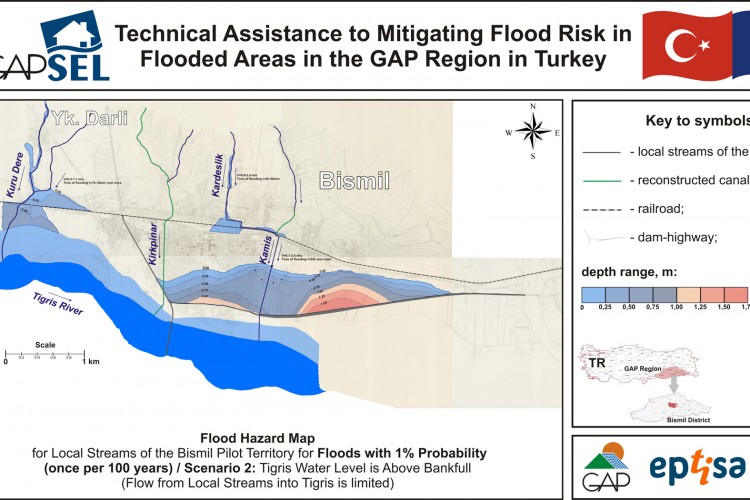 The overall objective of the project is to prevent flooding and its effects in the long-term through local institutional capacity building in the GAP Region. The technical assistance team support the GAP RDA under two components:
Component 1 – grant scheme implementation capacities: Assisting the GAP RDA with the implementation of the two grant schemes; 12.8 MEURO Physical Planning and Investment Component and 2.2 MEURO Social Support Component;
Component 2 – flood mitigation capacities: Capacity building activities for all stakeholders (and GAP staff, in relation to sustainable flood risk management, disaster management, and including pilot activity).
Types of activities within the project include:
Component 1
Preparation of a risk assessment for the selected grant projects;
Review and adaptation of the grant scheme manual;
Preparation of a training curriculum and training to Grant Beneficiaries;
Establishment of a support facility;
Preparation of a monitoring framework, a monitoring manual and database, training on monitoring, and delivery of monitoring;
Establishment of a grant scheme evaluation framework;
Establishment of a project website for dissemination / Information;
Preparation of a project information brochures and organisation of a dissemination event.
Component 2
Needs analysis for flood mitigation capacity building;
Preparation of an action plan for training activities and a training curriculum;
Application of the new flood risk directive on one pilot project (preparation of flood hazard maps, flood risk maps);
Capacity building activities for flood mitigation;
Preparation of awareness campaigns (e.g. brochures, posters, information maps, handbooks);
Organisation of two one-week study visits and a final event on capacity building for flood mitigation; as well as
Preparation of a sustainability plan / project exit strategy for flood mitigation capacity building.